Riceviamo dalla nostra Socia attiva Prof.ssa Giuseppina Campisi:
1st Oral Webinar: Oral Cancer and Oral Diseases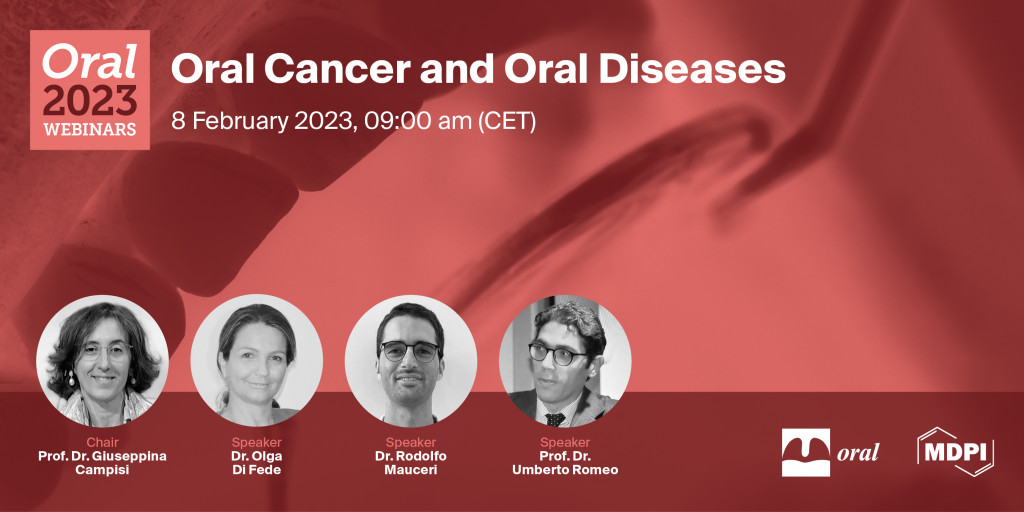 Date: 8 February 2023
Time: 9:00 a.m. CET | 3:00 a.m. EST | 4:00 p.m. CST Asia
Language: English
Link evento: https://oral-1.sciforum.net/#event_speakers
OSCC is one of the most prevalent cancers worldwide. Despite recent advances in diagnosis, surgical techniques, and adjuvant therapy, in the last years it has been registered an increase of the incidence of the OSCC and the mortality rate is still high.
The etiopathogenesis of OSCC is multifactorial, it has been related mainly to chemical factors, and to other factors, such as infections, and genetic alterations. Although the easy accessibility of the oral cavity, most cases of OSCC are diagnosed in advanced stages. Survival data is strongly influenced by the diagnostic delay, that refers to the time elapsing between the moment when the patient recognizes the first sign or symptoms of illness and the time when a definitive diagnosis is made, following a specialist examination.
To date, more than 50% of patients with OSCC are diagnosed at an advanced stage, and the 5-year survival rate of these patients is less than 50%. An early diagnosis of OSCC plays a crucial role in improving a patient's prognosis, as a five-year survival period is more than 90% if diagnosed early, falling to 5–20% for a late diagnosis.
The gold standard for OSCC diagnosis still is the incisional biopsy for histological confirmation. However, cancer research is currently focusing on finding less invasive and cost-effective methods to provide a more comprehensive view of the cancer profile, also to more easily monitor its evolution and therapeutic response. In this regard, many non-invasive techniques such as liquid biopsy have been recently proposed as supportive tools for diagnosis, prognosis, and follow-up of OSCC. Additionally, the relationship between human microbiota and carcinogenesis is a hot topic in cancer research.
The aim of this webinar is to discuss latest developments in the field of OSCC regarding the topics previously described.
Webinar ID: 860 7732 4826
Register for free here:
https://us02web.zoom.us/webinar/register/1016702439158/WN_hzAJpOE_SV-appHazim8vQ
Webinar website: https://oral-1.sciforum.net/
L'evento è gratuito ed è patrocinato dalla SIPMO.